On Mister Worker™, you can buy with Scalapay orders from €100,00 to €1.500,00.
Scalapay is available as a paying method for transactions in euro in the following countries: Italy, France, Germany, Spain, Portugal, Belgium, the Netherlands, Finland and Austria.
What is Scalapay?
Scalapay is an innovative payment method that allows you to buy in your favorite online stores and pay in 3 convenient equal instalments with monthly deadlines. The service has no additional charges if instalments are paid by the due date.
What's the deadline for the three instalments?
At the time of purchase you will be charged with the first instalment (equal to one third of total purchase value) immediately. The next 2 instalments will be charged monthly.
First instalment: at time of purchase
Second instalment: one month from the day of purchase
Third and final instalment: two months from the day of purchase
How are the instalments paid?
When you create a Scalapay account you will need to add a debit or credit card onto which the 3 instalments on the respective expiring date, as explained above, will automatically be charged.
When do I receive my order?
Your order will be shipped right away or based on product availability.
Can I make a return?
You can return your orders according to the Mister Worker's return policy. Scalapay will receive a notification directly from Mister Worker once your return has been approved.
Once Scalapy receives the notification, they will cancel your instalments from the last one and if necessary they will refund the instalments which were already paid directly on your card.
How can I purchase with Scalapay?
To pay with Scalapay select Scalapay as a payment method at checkout.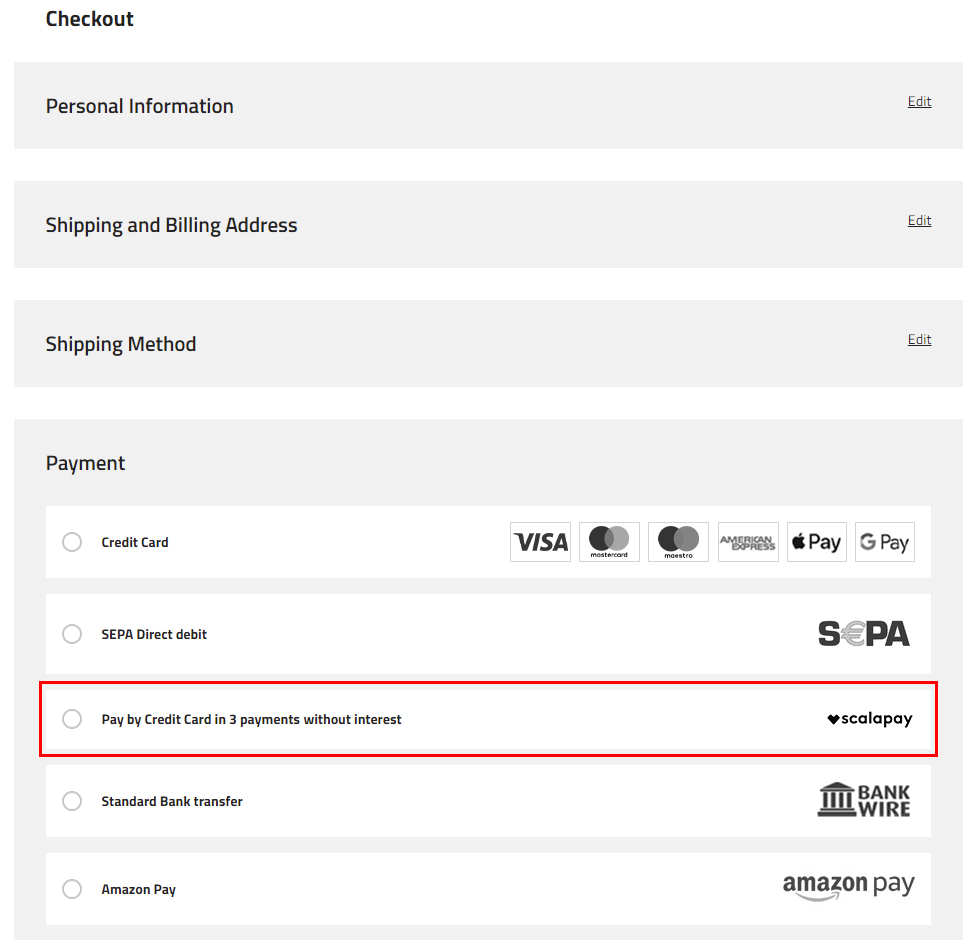 You will be redirected to their portal to complete your order. Follow the instructions to create your account or simply sign into your account if you have already created one.
Add the payment method you prefer the instalments to be paid by and complete the order in a few clicks.
How much can I buy with Scalapay?
Scalapay's systems automatically assign each customer a maximum spending limit (Scalapay purchasing power).
Your purchasing power depends on several factors, such as the shop you are buying from, the type of card you use, whether you have already purchased with Scalapay and repaid previous purchases without incurring any delays.
If you are a new customer and have never purchased with Scalapay your purchasing power may be reduced and will increase over time the more you purchase with Scalapay without incurring payment delays.

Remember that:
Your purchasing power does not depend on the availability of your card.
Scalapay does not use external sources to assess the creditworthiness of each customer.
Scalapay is not able to provide detailed information on the purchasing power of an individual customer.
Which cards does Scalapay accept?
You can use Scalapay with all the major credit, debit cards of the Visa, Mastercard and American express circuits. They also accept the major prepaid cards.
However, it isn't possible to use Maestro. Please note that it is not possible to make a purchase by paying via bank account or bank transfer, Sepa or Paypal account.
IMPORTANT: Not all cards guarantee the same purchasing power with Scalapay, regardless of the credit availability on the card at the time of the purchase.
New clients that use prepaid or debit cards might have a reduced purchasing power.
How much does it cost to use Scalapay?
Paying in instalments with Scalapay is completely free. You will only pay the cost of your order divided into 3 instalments of the same amount with a monthly deadline. For example, if you are buying a pair of shoes at a cost of 90 euros, you will pay 30 euros at the time of purchase, 30 euros after one month and the last 30 euros after two months.
Scalapay will inform you a few days before the expiring date of each instalment via SMS and email.
You will only be charged a late payment fee if one or more of the planned instalments are not paid by the due date. If you have not paid before the due date and automatic payment fails, you will have 24 hours to complete your payment. If this is not the case, Scalapay will charge fees for late payment. Contact support@scalapay.com to learn more about the late fees applied in your country.
Is Scalapay safe?
All payments made with Scalapay are handled by their partner Stripe. Stripe is a global leader in payment management and processes millions of payments every day.